Information
Also known as: 3D Coaching
Leader: Claire Pedrick
Unit 121
Devonshire Business Centre
Works Road
Letchworth Garden City
Hertfordshire
SG6 1GJ
United Kingdom

Making a difference to everyday conversations

Created on 18 Jul 2016
Updated on 23 Jun 2022
Approved by Moderator 13 Dec 2016
Edited/updated by Resource Provider on 05 Jan 2017

Tags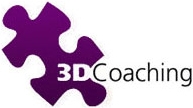 1:1 conversations form a considerable part of our working lives. At 3D we know with some simple coaching skills and a clear framework you will be able to make a difference to the quality of every conversation. Growing disciples means shifting responsibility in a conversation. It's a subtle change and makes a huge difference.
This course has been transformational for ministers, pioneers, MDR Reviewers and Senior Staff.
We also deliver the programme for groups in Dioceses and Church Organisations.