Information
Also known as: 3D Coaching
121 Devonshire Business Centre
Works Road
Letchworth Garden City
Herts
SG6 1GJ
United Kingdom

Bringing together quality vocational and professional development

Created on 05 Jan 2017
Updated on 24 Jun 2022
Approved by Moderator 05 Mar 2017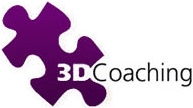 VOCATIONAL DISCERNMENT AND APPLICATIONS
We have worked with over 3000 clergy navigating the appointments process - through vocational questions, forms and interviews. We don't do spin.
Call the office to arrange a 2 hour conversation with one of our coaches. Everyone who works with clergy is actively involved in a local church - and some of us are ministers ourselves. We see people on zoom: this works really well for these kinds of conversations. Two hours is usually enough.
COACHING
If you're looking for ongoing coaching, we can offer this too. Some people like to work over time with maybe 2 or 3 sessions a year. Others may have a particular need in mind, and want to work todather over a period of a year or 6 months. We work to your needs!
TRAINING
We will train your people to have better conversations - in ministerial review, supervision, with curates or readers. We can come and do a 1 day course which will enable your people to learn a few things that they can put into practice. If you want to change culture, we recommend our 4 day programme where we will train 24 of your people to have better conversations.