Information
Author: Randall, Peter
ISBN: 978-0415126731
Publisher: Routledge
Year Published: 1997

The voices of both bullies and victims reveal the misery that many adults endure

Created on 07 Oct 2021
Last updated on 08 Oct 2021
Moderated on 08 Oct 2021

Tags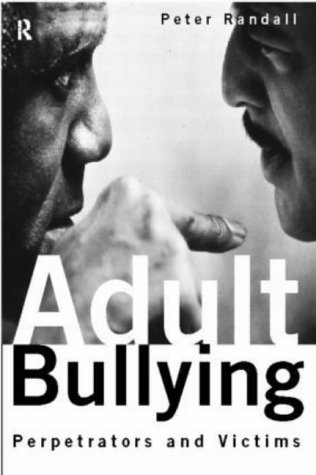 The frequency and severity of personal harrassment is a problem that is only just beginning to be uncovered. In Adult Bullying, psychologist Peter Randall uses the voices of both bullies and victims to reveal the misery that many adults endure.
He describes the processes that turn child bullies into adult bullies, often aware of their behaviour but unable to stop it. The workplace and the neighbourhood replace the playground, but the tactics and patterns of reward remain the same. The adult victim has little or no more power than the child counterpart, often changing jobs to escape the attentions of the bully. Similarly, managers like teachers, often fail to tackle the complaints of the victim with the seriousness the problem deserves, preferring to believe that the fuss is unwarranted.
Adult Bullying will be welcomed by managers, counsellors, social workers and anyone who has experienced personal harrassment. Effective ways to deal with bullying in the community and the workplace are discussed, with particular attention given to the implications for managers and employees.
Buy on Amazon (Affiliate link)
Buy on Blackwells (Affiliate link)