Information
Author: Randall, Peter
ISBN: 978-0415236942
Publisher: Routledge
Year Published: 2001

Examining the background factors to bullying.

Created on 07 Oct 2021
Last updated on 08 Oct 2021
Moderated on 08 Oct 2021

Tags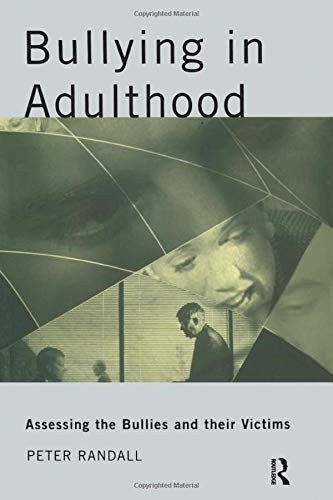 Peter Randall's first book, Adult Bullying, was one of the first books to examine the various situations in which adult bullying occurs, the forms it takes, and how it can be identified and dealt with more efficiently, particularly in workplace settings. Since that title was published, there has been more awareness of the extent of adult bullying.
In Bullying in Adulthood: Assessing the Bullies and their Victims, other aspects of the problem are examined, such as research and clinical issues, and in particular, assessment of bullies and victims and the background factors to such behaviour. This has become increasingly important as the problem begins to be appreciated and addressed within therapeutic, social and legal arenas. A number of strategies are suggested both for dealing with bullying and victim behaviour and for monitoring situations, for example by employers to see if problems improve. To assist in this process Peter Randall proposes a model of adult bullying which enables clinicians and human resources specialists to determine which factors are influential in individual cases. This book will appeal to practitioners and researchers in clinical/counselling psychology, counsellors, managers/human resources staff and social workers.
Buy on Amazon (Affiliate link)
Buy on Blackwells (Affiliate link)