Information
Author: Jacobsen, Wayne
ISBN: 978-0964729254
Publisher: FaithWords
Year Published: 2008

Readers will learn how to live consciously and confidently in God's love all the time.

Created on 03 Feb 2023
Last updated on 07 Feb 2023
Moderated on 07 Feb 2023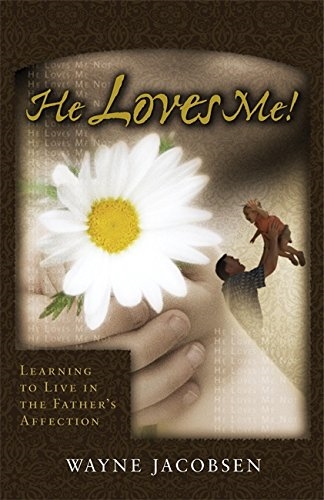 Do you find yourself picking through circumstances like children plucking daisy petals attempting to figure out whether or not God loves you? If you find yourself least certain of his love in those critical moments when you most need to trust him, there is hope for you. Where? At the one event in human history that forever secured your place in the Father's heart--the cross. There you will discover that what he always wanted was not the fearful subservience of slaves, but the loving affection of sons and daughters.
Startlingly honest and empathetically written, HE LOVES ME! reveals the facts of God's relentless grace. Readers will learn how to live consciously and confidently in his love all the time. Any Christian ready for a life-altering relationship with God will find out just how accessible that is.
HE LOVES ME! is now a co-publishing venture between FaithWords and Windblown Media, distributed by Hodder Faith. Like THE SHACK, HE LOVES ME! was originally self-published. This book will appeal to all Christians who have doubted or lost their faith. With all the interest and publicity surrounding THE SHACK, readership is growing for other books on the publisher's list.